Introduction
Mobula is the official partner of Tokonomo. In this article, we will talk about their testers program and how you can earn free crypto on their platform.
The Earn page on the Mobula app is an essential feature that enables many users to discover the platform on a daily basis, which in turn helps to grow Mobula's ecosystem. It is also a way for new users to learn about the full capabilities of the app while earning rewards.
First of all, you need to go to your dashboard:
Earn daily $MOBL tokens
One way to earn MOBL on this page is by completing daily tasks. Simply click on Day 1 for the first time and you'll instantly receive your daily MOBL. Come back the next day to earn more.
The amount of MOBLs you can earn increases each day, starting at 1 MOBL on the first day and reaching 4 MOBLs on the eighth day. However, if you miss a day, you'll have to start again at Day 1. The progression goes as follows: +1 / +1 / +2 / +2 / +3 / +3 / +4 / +4.
Earn $MOBL by doing missions
In addition to daily tasks, you can also earn MOBL by completing missions in the Mobula Missions section. These missions might include visiting the page of a newly listed token, for example.
The "Ongoing" tab lists the current missions available, while the "Participated" tab shows the missions you have completed.
How to claim $MOBL tokens
Once you've earned some $MOBL, you'll probably want to claim them. In order to prevent bots from taking advantage of the system, Mobula has implemented a two-step verification process. You won't be able to claim your MOBL without completing both steps.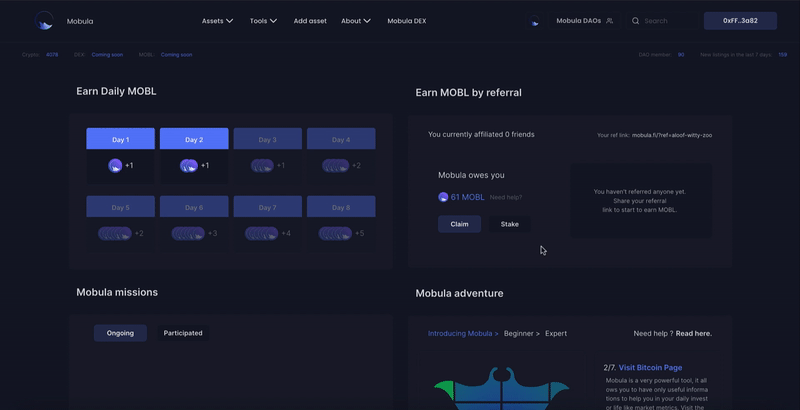 First Step: try the Mobula DEX
The first step is to make your first swap using the Mobula DEX. Go to the DEX page and make a swap of your preferred cryptocurrency, with no minimum amount required. The validation process may take a few seconds.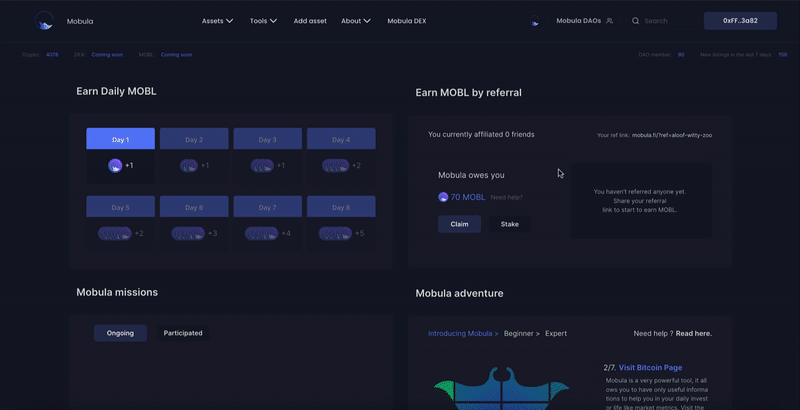 Once you've completed this step, try to claim your MOBL and you'll be prompted to verify your Telegram account, which is the second step.
Second Step: Verify your Telegram account
To verify your Telegram account, go to your profile page and enter your Telegram username in the appropriate field.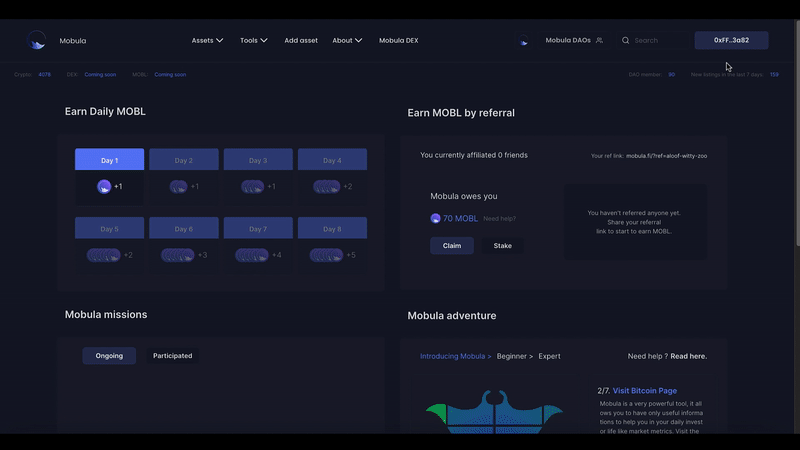 A code specific to your account will be generated under the field. Send this code to @MobulaBot, and the verification process may take a few seconds.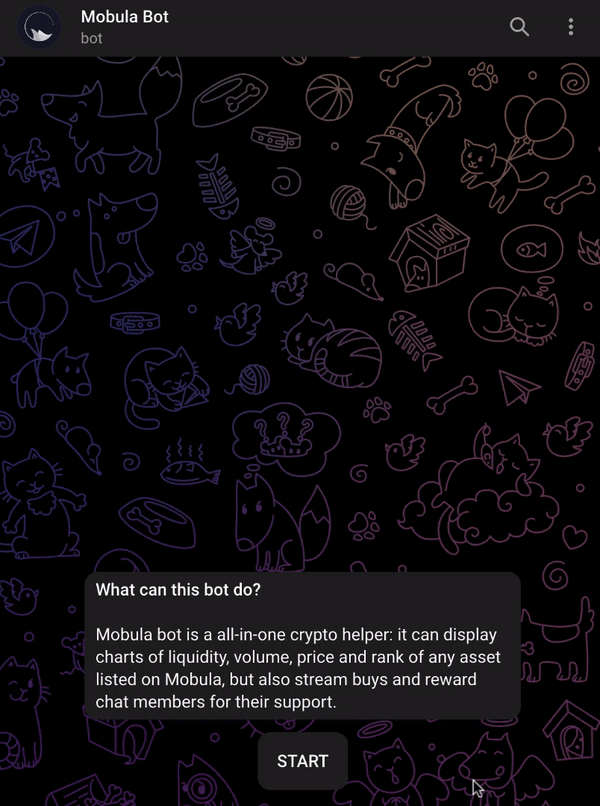 Once you've completed both steps, you'll be able to claim your MOBL on the Earnings page. Congratulations!