The sale of ARB tokens by the Arbitrum Foundation before the 'Ratification' vote resulted in a decline in the value of ARB
Prior to the "ratification" vote of the nearly $1 billion budget by the token holders' governance community, the Arbitrum Foundation sold ARB tokens for stablecoins, as stated in a blog post by one of its employees.
The value of ARB fell by 9% in the last 24 hours.
According to Patrick McCorry, the Foundation considered the omnibus governance package AIP-1 as ratification of decisions it had already made, including receiving 7.5% of all ARB tokens, and therefore began using these tokens for operational purposes, including conversion into stablecoins.
The Foundation loaned 40 million ARB tokens to market maker Wintermute and sold an additional 10 million tokens for fiat to cover operations.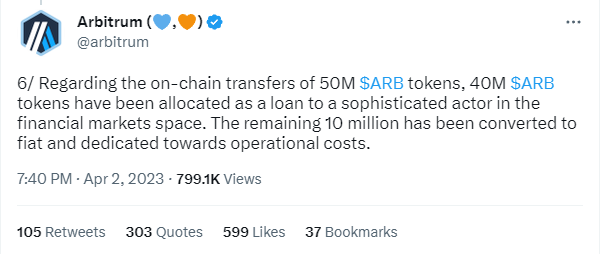 This response introduces uncertainties to Arbitrum's first attempt at community governance, which began with the airdropping of ARB governance tokens to hundreds of thousands of wallets.
The first critical decision was AIP-1, which covered various aspects of governance, emergency powers, funding, and grants.
The Foundation has promised to provide more information about the situation soon.
Four cryptocurrency exchanges, including Bybit, have been flagged by regulators in Japan for operating without proper registration
On Friday, the Financial Services Agency (FSA) of Japan issued a warning letter stating that Bybit, BitForex, MEXC Global, and Bitget, which are foreign cryptocurrency exchanges, are operating in the country without proper registration.
The FSA declared that these exchanges violated the fund settlement laws of the country by conducting crypto asset exchange business without registration at the time of issuing the warning letter.
The FSA also stated that the list of unregistered traders does not necessarily indicate the current state of unregistered businesses.
The CEO of Kaiko predicts that the crypto industry's "center of gravity" will shift to Hong Kong due to the US crackdown
According to Ambre Soubiran, the CEO of Kaiko, the frosty approach of the United States government towards cryptocurrency regulation might cause the crypto industry's "center of gravity" to shift to Hong Kong.
Despite the U.S. being a leading player in the crypto sector, there is a growing feeling that a significant number of companies, developers, and investors may move to friendlier environments due to the government's regulation-by-enforcement approach.
In an interview with The Wall Street Journal on April 1, Soubiran stated that the recent crackdown on crypto in the U.S. will inadvertently support Hong Kong's aspiration to become a major crypto hub.
Since the collapse of FTX in November 2022, the U.S. government has become increasingly aggressive towards crypto, with Senator Elizabeth Warren even stating that they are creating an "anti-crypto army."
In contrast, Hong Kong has been moving in the opposite direction.