Immutable has partnered with Polygon Labs to enhance the Web3 gaming ecosystem
Immutable, a platform for Web3 game developers, has entered into a strategic partnership with Polygon Labs, a blockchain protocol, to speed up the growth of the Web3 gaming industry.
According to a press release, Immutable plans to utilize Polygon's zero-knowledge technology to streamline the process of getting game studios and developers on board with Web3.
The partnership's objective is to offer a solution for companies that accelerates time-to-market and provides access to one of the largest and most liquid ecosystems for end-users.
The announcement of the collaboration caused a 15% drop in the price of Immutable X (IMX), the company's native token, which fell to a 24-hour low of $1.29 from its previous trading price of $1.51.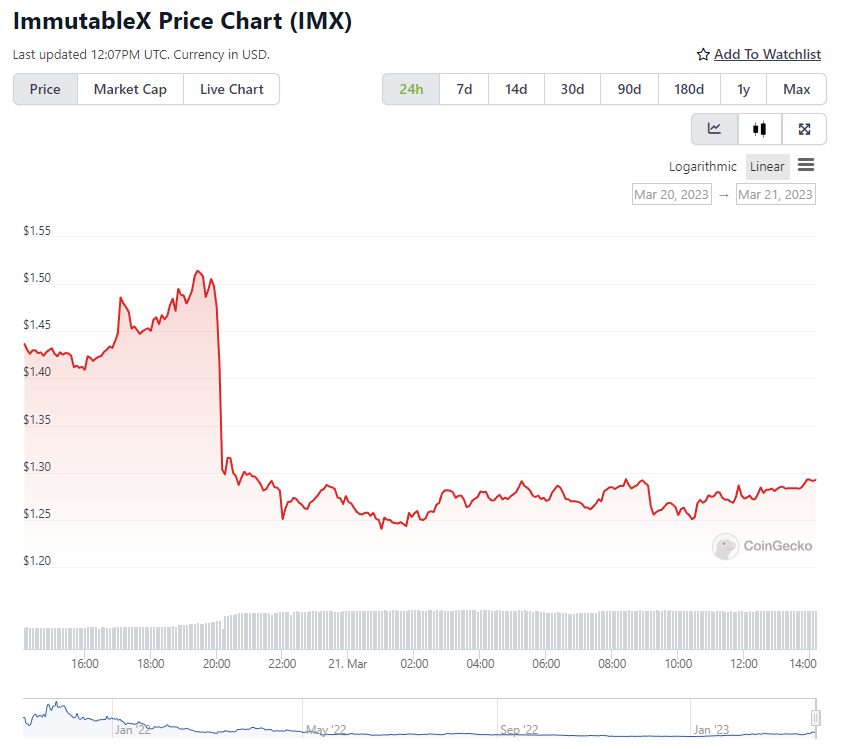 Both Immutable and Ethereum have been actively promoting the growth of the emerging Web3 gaming industry through the introduction of new tools and mainstream partnerships. Immutable launched a $500 million venture fund for Web3 games in June, while Polygon established a business unit dedicated to advancing Web3 gaming in July.
The Crypto Fear and Greed Index has reached its highest point since the all-time high of the Bitcoin
As of March 20, the Crypto Fear and Greed Index has achieved its highest score this year, reaching levels that were last seen in November 2021, during Bitcoin's all-time high.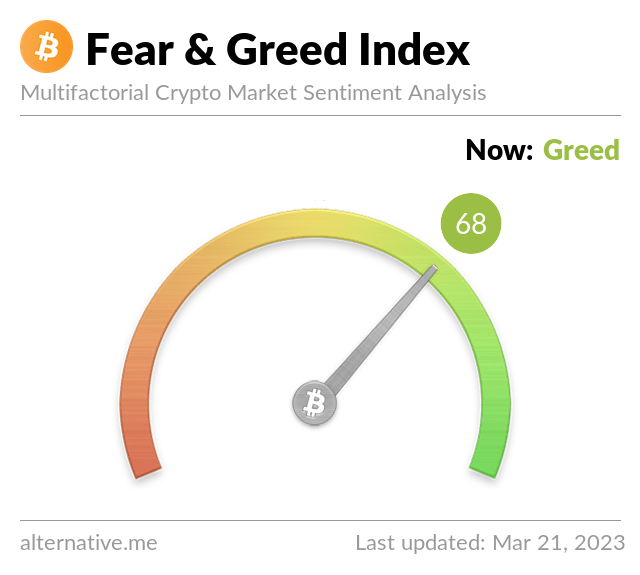 The index's score of 68 puts it firmly in the "Greed" territory, and it seeks to provide a numerical representation of the current emotions and sentiments surrounding Bitcoin and the cryptocurrency market. The index's highest possible score is 100.
According to Coingecko, the last time the index recorded a score above 66 was on November 16, 2021, only a few days after Bitcoin's all-time high of over $69,000 on November 10, 2021.
Since the collapse of Silicon Valley Bank and the resulting impact on the traditional financial system, sentiment around BTC and crypto has been bullish.
Over the last seven days, Bitcoin has gained around 27.8%, according to Coingecko data, and has surpassed $28,000 for the first time since June 2022.
The Governor of Florida, Ron DeSantis, has suggested legislation that would prohibit the use of Central Bank Digital Currencies (CBDCs)
Ron DeSantis, the Governor of Florida and a potential Republican candidate for the US presidency has put forward a legislative proposal that would ban the use of a national central bank digital currency (CBDC) as legal tender in the state of Florida.
The proposal would also forbid the use of any foreign central bank-issued CBDCs within Florida.
DeSantis has urged other states to follow Florida's lead and introduce comparable laws.
The United States is examining options to secure the country's 18 trillion dollars worth of bank deposits
US officials are said to be exploring ways to extend the current scope of deposit insurance in order to guarantee all bank deposits in the event that the current banking crisis deteriorates.
Presently, the maximum deposit insurance cap under the Federal Deposit Insurance Corporation stands at $250,000.
However, following the collapse of several banks in March, there have been calls for that amount to be increased.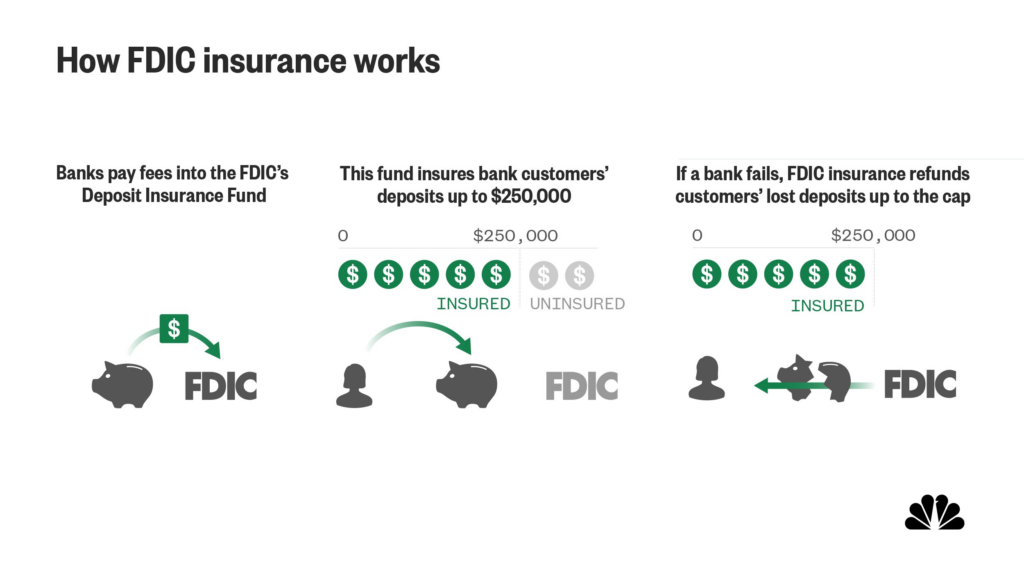 The Mid-Size Bank Coalition of America has asked for the cap to be lifted for the next two years, arguing that it is necessary to protect depositors and to prevent capital from being withdrawn from smaller banks in favor of supposedly safer larger banks.

Treasury Department officials are currently discussing the possibility of the FDIC being able to expand deposit insurance beyond the maximum cap in order to cover all deposits, according to Bloomberg sources.
As of December 31, 2022, domestic US bank deposits totaled $17.7 trillion, according to the FDIC.
The decision to increase the insurance cap will ultimately depend on the extent of emergency authority that federal regulators have and whether the cap can be raised without formal approval from Congress.
According to Bloomberg's sources, US regulators believe that such a drastic move is currently unnecessary, as recent regulatory measures are likely to suffice.
However, a potential strategy is being devised in the event that the situation worsens.
Signature Bank's Signet network will no longer be supported by Coinbase
According to a report from the Wall Street Journal, Coinbase has informed its clients that it will no longer support Signet, the real-time payments network of Signature Bank.
Clients who used Signet for U.S. dollar deposits or withdrawals will not be able to send funds outside of regular banking hours, but Coinbase is reportedly searching for a new technology partner.
However, customers can still make crypto deposits, withdrawals, and conversions from USDC to U.S. dollars 24/7 on Coinbase Exchange.