The Federal Reserve has increased the Fed Funds Rate by 25 basis points and indicated the likelihood of a pause in the future
On Wednesday, the Federal Reserve's Federal Open Market Committee (FOMC) continued its streak of rate hikes, raising the Fed funds rate by 25 basis points to a targeted range of 5%-5.25%.
The market response was muted, with bitcoin (BTC) trading at approximately $28,600 following the announcement.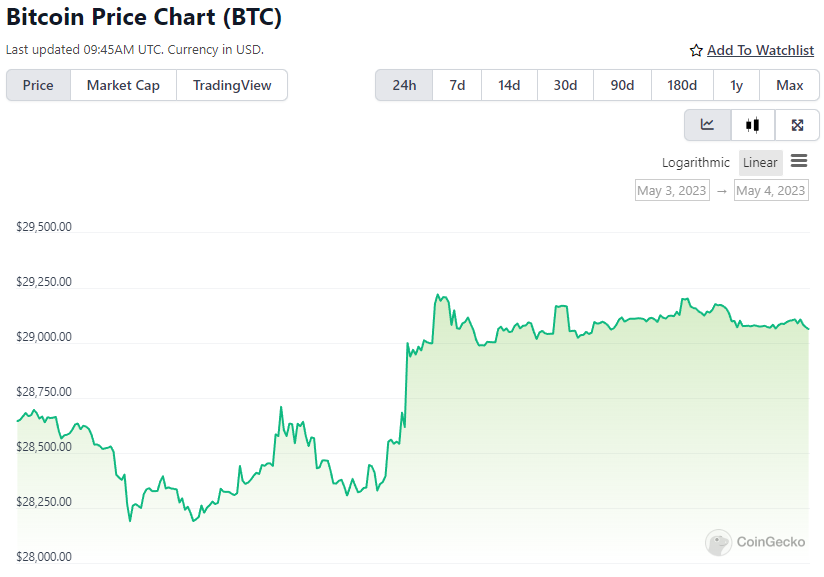 While widely anticipated, investors and traders eagerly awaited the policy statement and Chair Jerome Powell's press conference for any indication that the central bank may be considering a pause after a historic series of rate hikes.
Since early 2022, the fed funds rate has risen from 0% to its current level of 5%-5.25%.
The policy statement was noteworthy for not including prior language that suggested rate hikes were a certainty.
While acknowledging "tighter credit conditions" as a potential headwind for the economy, the FOMC indicated that it will consider various economic and financial factors when making future decisions about monetary policy.
Despite a decrease in inflation from nearly double digits one year ago to around 5%, inflation remains above the Fed's target of 2%, indicating that further tightening of monetary policy may be necessary.
The Fed is currently fighting a two-front war as its rate hikes may have contributed to exposing balance sheet issues at several US banks.
Most recently, First Republic (FRC), the 12th largest bank by assets in the country, required a joint rescue by the Federal Deposit Insurance Corporation (FDIC) and JPMorgan (JPM).
During the press conference following the FOMC meeting, Powell stated that a decision to pause rate hikes had not been made.
He did note, however, that the Fed is prepared to take additional measures to contain inflation.
As a result of the announcement, Bitcoin pulled back slightly to $28,390 from its initial price of $28,600.
The Sui Token experiences a surge in value at the commencement of trading, which results in the network's fully diluted value reaching $13 billion
According to data, Sui Network's tokens experienced a surge in value to $2 each within minutes of the start of trading at 12:00 UTC (8 a.m. ET) on Wednesday.
At the time of writing, the market capitalization of the tokens had climbed to almost $690 million, with a fully diluted valuation of an astounding $13 billion.
Blockchain explorer data showed that validators had staked over 4.2 billion SUI tokens as of Wednesday.
These validators are responsible for validating new transactions and maintaining network security within a proof-of-stake (PoS) blockchain network.
In comparison, SUI's main competitor, Aptos' APT, has a market capitalization of around $2 billion, with a fully diluted valuation reaching almost $10 billion, according to CoinGecko.
The substantial increase in the price of SUI tokens prompted some observers on Crypto Twitter to criticize the excessively high valuations.
The liquidity pool for the PEPE meme coin has emerged as the busiest on Uniswap
The PEPE meme coin has been creating a buzz on Uniswap and is currently one of the most researched coins on the Nansen data platform.
The coin's value has risen by over 2,100% since its launch last month.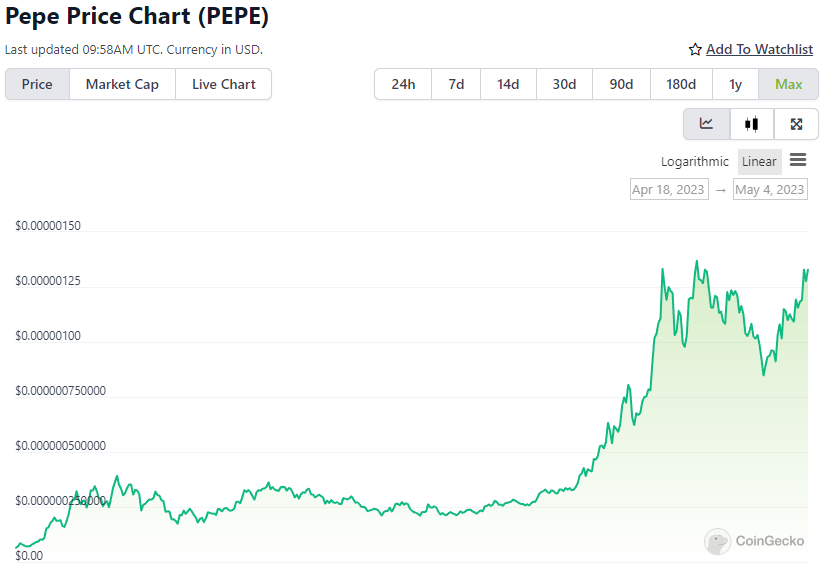 According to Nansen, the liquidity pools for PEPE-WETH on Uniswap's v2 and v3 versions have been highly active, with over 82,750 and 72,950 transactions respectively, generating nearly $900,000 in fees.
However, over the weekend, traders were negatively affected by a lack of liquidity resulting in significant slippage for large PEPE to ETH transactions.
Despite this, PEPE's trading volume has surpassed that of DOGE and SHIB, and it remains among the top trending cryptocurrencies on CoinGecko.
Furthermore, it is currently the most researched token across all subscription tiers of Nansen's blockchain analytics platform.
PEPE has been listed on several centralized exchanges, including OKX, MEXC, and Huobi.
In the initial days of the 2024 Presidential campaign, RFK Jr. highlights the topics of increased cryptocurrency taxes and regulations
Robert F. Kennedy Jr., a member of the prominent U.S. political family, has recently announced his candidacy for the 2024 presidential race and has brought up various issues related to the cryptocurrency industry.
As a Democrat and environmental lawyer, Kennedy has expressed his concerns regarding the proposed 30% excise tax on crypto mining operations by the Biden administration, which he believes will hinder the growth of the industry and push innovation to other countries.
Kennedy's stance on cryptocurrencies has been noted in the past, and he has continued to advocate for the industry, including as a speaker at the upcoming Bitcoin 2023 conference in Miami Beach.
He has also criticized U.S. financial regulators for their treatment of the crypto industry and argued that central bank digital currencies would give governments excessive control over their citizens.
Kennedy's anti-CBDC view aligns with that of Florida Governor Ron DeSantis, who is expected to run for the Republican candidacy in 2024.
Some early polls have suggested that Kennedy is gaining traction as a Democratic primary challenger to President Biden.
An individual who previously held a position at OpenSea has been found guilty of engaging in wire fraud and money laundering in relation to an insider trading case

Nate Chastain, who previously served as the head of product at the non-fungible token (NFT) platform OpenSea, has been convicted of money laundering and wire fraud by a federal court in New York.
Chastain resigned from his position in September 2021 following allegations of insider trading.
Prosecutors claimed that Chastain had used his role, which involved selecting NFTs to feature on OpenSea's homepage, to make illegal profits.
Chastain allegedly purchased NFTs that he knew would be featured on the company's website and then sold them at inflated prices after prices increased due to the increased attention.
Chastain attempted to conceal his purchases by using anonymous wallets and OpenSea accounts.
This case was the first insider trading case involving digital assets, according to the prosecutors in the U.S. Southern District Court of New York (SDNY).
After a three-day trial, the jury found Chastain guilty on both counts. He faces a maximum sentence of 40 years in prison.
Curve Finance, a DeFi protocol, has launched its own stablecoin on the Ethereum mainnet
Curve Finance, a DeFi protocol, has launched its much-anticipated native stablecoin, called crvUSD, on the Ethereum mainnet.
According to blockchain data on Etherscan, the contract has minted $20 million worth of crvUSD tokens in just five transactions within a five-minute period. Following the deployment, the Curve.Fi Team created a $1 million crvUSD loan using $1.8 million of frxETH, an ether derivative token issued by DeFi protocol Frax Finance.
The deployment has been confirmed by Curve on Twitter, and its governance token, CRV, has seen a 7% increase for the day, currently trading at 97 cents according to CoinGecko data.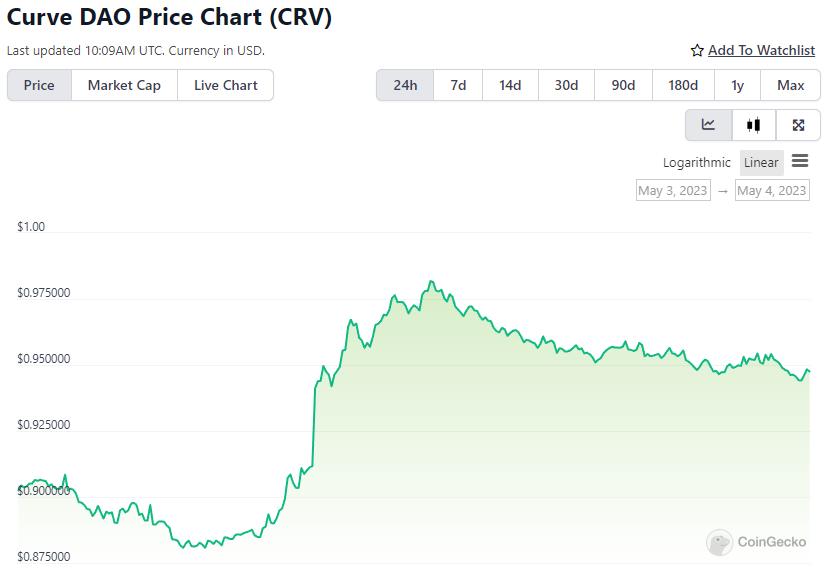 Curve is one of the largest decentralized marketplaces focusing on stablecoins, with around $5 billion of assets on the protocol.
The stablecoin faces stiff competition from other DeFi protocols that have also developed their own native stablecoins.
However, the crvUSD stablecoin is not yet integrated into Curve's user interface, and an admin in the protocol's official Telegram channel has said that its public release is "waiting on the front end," which will come "soon."
The recently established venture capital firm focused on cryptocurrency, Credibly Neutral, has secured $5.5 million in funding
Credibly Neutral, a newly established cryptocurrency venture capital firm, has successfully raised $5.5 million from a diverse group of investors, which includes the co-founders of Solana and Polygon blockchains, and Joe Lubin's investment firm, Ethereal Ventures.
The company was founded by Viktor Bunin, who currently leads Coinbase Cloud's protocol operations team, and Lisa Cuesta Bunin, the chief operating officer at Aztec Protocol, an Ethereum privacy startup.
The Brooklyn-based company aims to invest in early-stage projects, particularly those in the range of $50,000 to $250,000 that are focused on protocols, infrastructure, and cryptocurrency software-as-a-service (SaaS) projects.
Credibly Neutral is particularly interested in investing in decentralized finance (DeFi) protocols, analytics tools, developer tools, security software, and layer 1 and 2 blockchains.
The company's investment philosophy is built on "credible neutrality", which supports transparent systems that foster a level playing field for all participants.
Lisa Cuesta Bunin stated that Credibly Neutral is passionate about investing in communities and teams that are developing products, protocols, and tools that promote open access and fuel innovation.
Among the investors who participated in the round were Solana co-founders Raj Gokal and Anatoly Yakovenko, Aaron Henshaw and Joe Lallouz (co-founders of blockchain infrastructure provider Bison Trails), Surojit Chatterjee (former chief product officer of Coinbase), Patricio Worthalter (founder of proof of attendance protocol POAP), Anthony Sassano (author of Ethereum-focused Substack, Daily Gwei), Sandeep Nailwal (co-founder of Polygon), and Mara Schmiedt (CEO of staking system Alluvial), among others.