The official target date for Ethereum's Shanghai hard fork has been announced
The long-awaited Shanghai hard fork for Ethereum has been assigned a target date of April 12 by its developers. This upgrade, also known as "Shapella," signifies the final step in Ethereum's complete transition to a proof-of-stake (PoS) network and will facilitate the withdrawal of staked ETH.
A key question for traders will be how the upcoming withdrawal feature will impact the price of ETH, but there is no clear answer to this. At present (March 17th), around 13.81% of all ETH tokens are staked, according to Staking Rewards, and the new withdrawal feature could unlock a substantial amount of liquidity as staked ETH owners will be able to sell their holdings. This percentage of staked coins out of the total supply is likely to be closely watched by traders and investors.
On the other hand, the improved liquidity offered by staking on ETH could make it a more attractive option for users. Those who were previously hesitant to use liquid staking protocols will now have the opportunity to directly stake ETH with Ethereum, potentially driving demand for ETH due to the improved staking conditions.
Arbitrum is planning to distribute a new token through an airdrop and shift to a DAO structure
Arbitrum, which is currently the leading player in Ethereum's layer 2 scaling sector, is introducing a new token.

The Arbitrum Foundation has announced that the ARB token will be distributed via an airdrop to community members on March 23. With the launch of ARB, Arbitrum will officially transition to a decentralized autonomous organization (DAO), granting ARB holders the ability to vote on critical decisions related to Arbitrum One and Arbitrum Nova. These networks offer faster transaction speeds and lower fees for users transacting on the Ethereum blockchain.
In February, Arbitrum collaborated with Nansen, a crypto analytics firm, to create a "snapshot" of user activity for determining ARB token eligibility. Factors such as the number of transactions conducted, the number of different applications utilized, and the length of usage on Arbitrum One and Arbitrum Nitro were taken into account to determine eligibility, according to Goldfeder.
To check their eligibility and claim tokens, Arbitrum users can visit arbitrum.foundation.
Unlike ETH, which is used to pay transaction fees on Ethereum and Arbitrum, the ARB token will solely be utilized for protocol governance. The governance process for Arbitrum DAO will be self-executing, which means that votes can be directly employed to modify the core code of Arbitrum.
The price of SHIB has fallen by 8% following accusations that the Shibarium code was pilfered
A member of its Discord community raised concerns about the Shibarium chain utilizing the same Chain ID number, 917, as the Rinia Testnet chain.

In response, one of the anonymous developers, Kaaldhairya, tweeted that a new version of the BETA network would be released with a new chain ID.
Other individuals also pointed out similarities in code discovered on Github, a code repository.
Developers frequently utilize each other's work for mundane and non-threatening activities. These pre-written blocks are referred to as libraries and are accessible as open-source code, which means they are meant to be copied and reused.
Despite making some gains after the initial sell-off, the SHIB token is still down 8% for the day.
Doodles is "No longer an NFT project"
Jordan Castro, one of the founders of the NFT project Doodles, announced that the brand is shifting its focus away from being solely an NFT project and working towards becoming a top-tier media franchise in the long-term.

Castro stated that the team will concentrate on their most loyal collectors and not spend resources on those with financial motivations.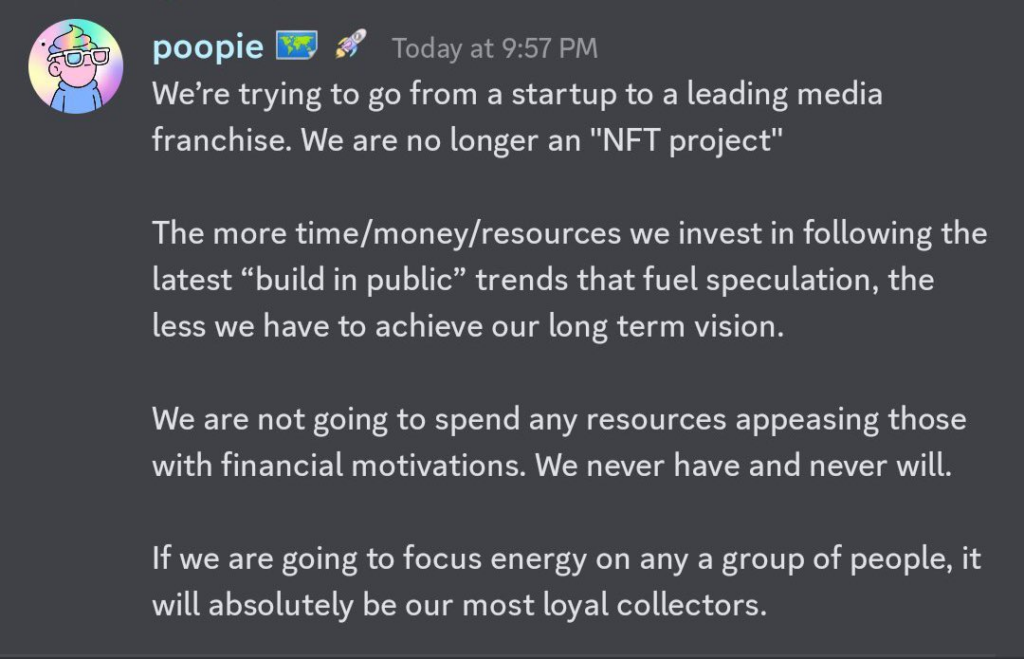 The announcement was met with mixed reactions from Doodles' holders who asked for clearer communication.

Castro responded to the criticism on Twitter, affirming his commitment to blockchain technology and stating that Doodles would continue to use NFT tech as connective tissue. He also emphasized that Doodles aimed to create products with market fit, solve real-world problems, and attract intrinsically motivated users.
Doodles, along with other NFT collections, has experienced a decline in its floor price in recent months. The floor price for a Doodles NFT is currently 3.4 ETH or about $5,700, down from its high of 21.8 ETH in May 2022.
The recent announcement has had a negative effect on the collection's floor price, which has decreased by over 8% in the last 24 hours.
Ledger has introduced a new browser extension aimed at enhancing the connectivity of its wallet with users' preferred dApps
Ledger, a leading provider of cold storage crypto wallets, has unveiled a new browser extension designed to enhance online security and connectivity for digital assets.

The Ledger Extension is presently only compatible with Ethereum- and Polygon-based dApps and platforms, but the company plans to support more EVM-compatible chains and Solana in the future.
The extension is currently available only on Safari, iOS, and MacOS, but additional support for Windows, Chrome, and Chromium-based browsers like Brave, Opera, and Edge will be launched shortly after the extension's release. Initially, it will be available on a few dApps and platforms, such as NFT marketplace OpenSea, and decentralized exchanges PancakeSwap and Curve.

The extension seeks to provide a similar experience to browser extension crypto wallets like MetaMask, but instead of being a hot wallet, which is more vulnerable to online attacks, it will remain a cold wallet that permits users to interact directly with dApps via Bluetooth.

It features two functions aimed at keeping users secure while engaging with crypto, including analyzing smart contracts to alert users if a transaction is potentially malicious and simulating a transaction to demonstrate how it will impact the wallet, even if it is a secure transaction.
Conclusion
March 16th has been pretty exciting for the crypto community with the Arbitrum airdrop and Ethereum's Shanghai hard fork dates announcements. Always make sure to DYOR and stay up to date with everything that's happening in the crypto space with our daily digest of crypto news!